How often should you clean your AC?

When it comes to cleaning your air conditioning system; people tend to wonder how frequent maintenance is required. Well, it's not as often as you'd think. Twice a year is considered good regular maintenance. Taking care of your home is the same as caring for your car. Things eventually suffer from wear and tear and must be fixed in order to keep everything running. If you want to keep your home nice and fresh than cleaning your AC is a must. Whether we like it or not dust gathers and causes build-up in our Air conditioning system.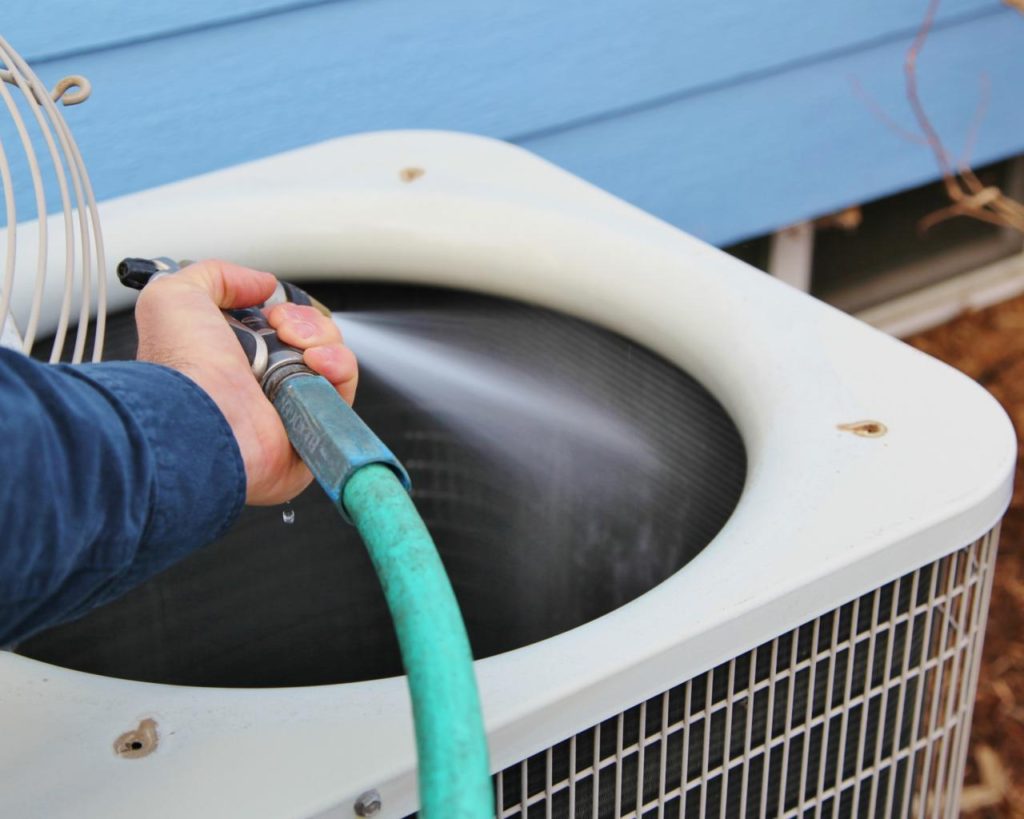 Problems caused by a dirty Condenser Unit.
The condenser and compressor are in the outdoor heat pump unit. The condenser fins assist the unit dissolve heat more efficiently, just like a radiator in your vehicle. After the heat is removed through the refrigeration cycle, hot refrigerant gets sent to the outside air conditioning unit. Your outdoor unit releases heat from your indoor air. The condenser fan then blows air over the outdoor coils releasing the heat outside, and if your outside unit is clogged then this could be trouble. It happens and when it does Bayside Heating and Air can service all your air conditioning repairs servicing all residents of Rancho Cucamonga and surrounding areas.
You will know when your air conditioner is not working properly. Your home will struggle to stay cool, and your air conditioner will overwork wasting energy and spending money. If your coils aren't getting enough air flow, your air conditioning system will overheat and break down. After one of our handy technicians clean your air conditioning system you will not have to worry about having a broken or damaged AC system.
DIY: Cleaning your AC system
Residents of Rancho Cucamonga don't worry we are here to help. We at Bayside Heating and Air strive to maintain the best customer service and AC repair you can rely on.
What you'll need:
Air Conditioner Coil cleaner (check with manufacture recommendation)
Vacuum cleaner with soft-brush attachment
Water hose with sprayer
Gloves and eye protection (recommended)
Now we can begin cleaning
Let's begin by turning the thermostat to "OFF".
Locate the electrical disconnect near your outside unit (usually a metal box on the exterior wall.)
Switch the air conditioner to off.
Remove large debris from external of air conditioning unit.
Gently vacuum the condenser fins with the soft-brush attachment, careful not to bend any of the
fins.
Water off any remaining debris on the external part of the unit.
Spray the outside of the unit with coil cleaner and let sit for 15 minutes.
Use water hose to rinse off the coil cleaner.
Repeat once a year, ideally once on the spring and once in the summer.
We are always here to help
If you don't have the time or tools clean you air conditioning unit clean and healthy then that's ok. We are here to assist all of Rancho Cucamonga and surrounding cities to ensure the best AC repair and heating services. You can never be too sure when it comes to repairing your home. A $10 job can turn into a $1,000 job fast. Don't take your chances, our team at Bayside Heating and Air take pride in offering same-day repairs and affordable heating and air services. Let us solve your AC problems for you. For service inquires you can reach us at (909) 919 – 6121 and receive a quote today.