What You Should Know
What is refrigerant? Have you ever wondered how your air conditioner makes cold air? When is it time to look for an AC repair specialist? It's a collection of multiple components, but the main player is the refrigerant. The substance comes in a fluid or gas state and works by absorbing heat from the environment. When the compound is combined with other components, such as compressors and evaporators, it is then when it becomes a refrigerant or also known as, air conditioning. It helps our Air conditioner keep our homes and businesses nice and cool during the summer. The refrigerant is a crucial component for our AC systems. It works together with the evaporator coil and must evaporate in order to absorb the surrounding heat. If your AC is low on refrigerant you will notice right away. This heat in the Inland Empire is no joke, we Southern California residents need to make sure our AC is working properly. When your refrigerant is low you will feel a little warmer as your home or business will struggle to keep cool. Without refrigerant there would be no AC systems, refrigeration, or freezing.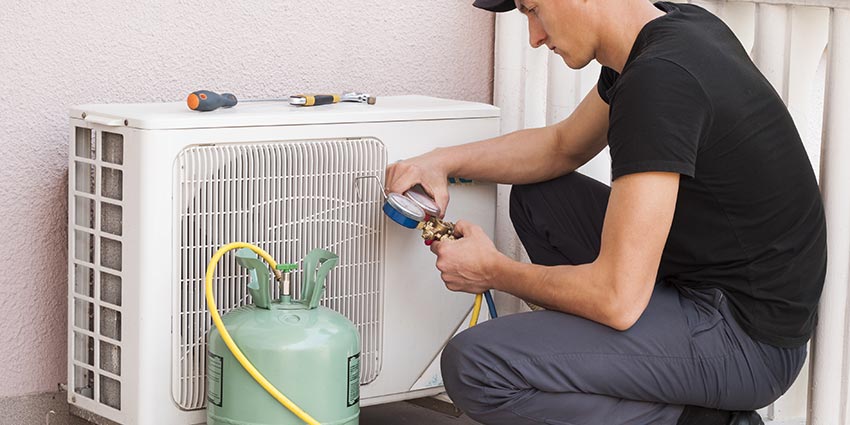 Types of Refrigerant
When it comes to types, the three most popular refrigerants are:
Chlorofluorocarbons (CFCs), including R12
This is best known as the infamous "Freon" and is known to contribute to the greenhouse gas effect.
Hydrochlorofluorocarbons (HCFCs), including R22
Having a slightly less ozone depletion R22 is estimated to phase out completely by 2020 as a result of the Clean Air Act of 2010.
Hydrofluorocarbons (HFCs), including R410A and R134
This mix contains no chlorine and would be your safest option for the environment. AC units that run on R410A are more efficient, a better choice for our environment, and can be relied upon.
Homeowners & Business Owners Beware
If you are a residential or commercial property owner in the Inland Empire, and you think you may need to top off your refrigerant compound you may be wrong. A clean and healthy air conditioning system should always have a consistent amount of refrigerant to cool your home. If you are experiencing a lack of cool air or issues with your home staying cool, then you more than likely have a leak. Be careful not to overpay by having an air conditioning repair service come and refill your refrigerant, only for it to continue leaking. When this happens, is the problem really being fixed? We at Bayside Heating and Air are working around the clock to ensure that you receive proper air conditioning repair.
We Can Help You
Bayside Heating and air can service you with a professional team you can trust. We can get you cooled down in no time. Our skilled AC repair technicians are trained to offer you the best AC installation, and Ac repair near you. With the summer coming to an end we at Bayside Heating and Air offer many services all year round, hot or cold. This includes air conditioning repair, AC installation, heating repair, water heater installation, and refrigeration services. We are happy to offer residents throughout the Inland Empire and surrounding cities free quotes and provide same day service! Let us be your solution to beat this hot weather and stay fresh. You can reach us at (909)919-6121 and get a free quote today!